Hobart High School Alumni Association, Inc.
The Official Website of the HHS Alumni Association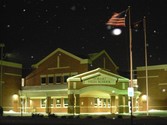 In Memory
Lindy Moss - Class Of 1944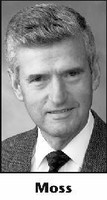 OBITUARY FROM FORT WAYNE NEWSPAPERS WEBSITE, JUNE 10, 2015:
LINDY G. MOSS, 88, passed into the arms of the Lord on Monday, June 8, 2015, at Wood-view. Born in Hobart, Ind., July 21, 1926, he was the son of the late Glenn Moss and Gladys Pleake. Raised in Hobart, he attended and graduated from Hobart High School. Lindy served in the United States Army Air Corps during WWII. He earned three degrees from Indiana University, a BS in business in 1949, an AB in government in 1950, and an LLB in law in 1952.
In October of 1952, while working as a Special Agent in the Charlotte office of the FBI, Lindy met his future wife, Jeanne, who was also working at the FBI as a Stenographer. They were engaged in March of 1953 and married on Aug. 29, 1953. After they moved to Fort Wayne in 1956, they met their friends Bere and Lucy Clarke, who, as chance would have it, shared their anniversary date. The couples enjoyed more than 50 years of anniversary celebrations and this friendship endured to this day. Early in his legal career, Lindy served as a Deputy Prosecutor and also as a Public Defender for Allen County. He was a fellow of the Allen County Bar Foundation and a member of the American College of Probate Counsel.
A supporter of IU and its Alumni Association for more than 50 years, Lindy and Jeanne held IU football season tickets for over 40 years, including a cherished trip to the 1968 Rose Bowl game. Lindy served as president of the IU School of Law Alumni Association from 1967 to 1969 and was awarded its Distinguished Service Award in 1997. In 1998, he was elected to the board of the John Whittenberger Society and became the Society's President in 2003. The Northeast Chapter of the IUAA awarded him its Distinguished Alumnus Award in 2001. In 2008, Lindy received the IUAA President's Award - This award honors the IUAA's most dedicated volunteers, those who lead the way in providing opportunities for their fellow alumni and friends to stay connected with their alma mater. In addition, Lindy belonged to the Varsity Club, the Woodburn Guild, and was a life member of the Friends of Music, and the IUAA.
He was an avid golfer holding a membership at the Fort Wayne Country Club for 27 years where he scored a hole in one in 1990, on hole 8, 167 yards. Lindy remained active with his fraternity, Delta Upsilon, and served as president of its Wrangler Foundation. In 2010 the Fraternity named a scholarship after him creating the Lindy Moss Scholarship, which provides financial recognition to undergraduate brothers who demonstrate academic excellence. He served as President of the Fort Wayne Rotary Club, the Fort Wayne Quest Club, the Board of Directors of Parkview Memorial Hospital, and the Allen County Bar Association. He served on the Fort Wayne Community Schools Board, Fort Wayne Philharmonic Board of Directors, Methodist Church Builders Board and many other civic organizations. He taught adult Sunday school classes at both Forrest Park United Methodist Church and Good Shepherd United Methodist for many years. An opera fan as well as IU fan, Lindy and Jeanne attended many performances staged by the Indiana University Jacobs School of Music in Bloomington.
Surviving are brother, Grayson of Houston, Texas; sister, Joan Wedgeman (Alvis) of Groesbeck, Texas; four sons, Kirby (Barb), Kent, Parker (April) and Paul; and five grandchildren, Rachel Moss, Jordan Moss, Taylor Moss, Carolyn Moss, and Grayson Moss. Lindy was preceded in death by his beloved wife, Jeanne, of 56 years.
Memorial Service is 10 a.m. Friday, June 12, 2015 at D.O. McComb & Sons Lakeside Park Funeral Home, 1140 Lake Ave, with calling one hour prior. Calling also from 5 to 8 p.m. Thursday, June 11, 2015 at the funeral home. In celebration of Lindy and his dedication and love for Indiana University, please join us by wearing cream and crimson in memory of Lindy's IU spirit. Memorials may be made to the Wrangler Foundation-Lindy G. Moss Scholarship Fund PO Box 5155 Bloomington, IN 47407. To sign the online guestbook go to www.domccombandsons.com.
This information and picture were obtained from: http://www.legacy.com/obituaries/fortwayne/obituary.aspx?pid=175045432.