Hobart High School Alumni Association, Inc.
The Official Website of the HHS Alumni Association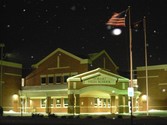 In Memory
Byron "Bud" Pio - Class Of 1939
OBITUARY FROM THE REES FUNERAL HOME WEBSITE, FEBRUARY 8, 2017:
Byron L. Pio passed away during the early morning hours of February 5, 2017 at the Granger Indiana Brookdale Assisted Living facility where he has resided since October 2008.
Bud was born on April 12, 1920 in Tovey, Illinois to Leo and Isabel Pio. The family moved back to Hobart where Leo was originally from. Bud was serious about scouting. His troop won a trip to Washington DC which was one of the thrills of his life. He was a popular lifeguard at the Lake George Beach known as the "golden boy" who could dive as artistically as some of the professionals of that time. His mid-air double and triple somersaults were heart stoppers. Later his diving ability brought closure to a family whose son had drowned in Lake George when he retrieved the body for the police department. Bud was a key player for the Hobart Brickies, another of his great loves. He graduated from HHS in 1939.

Bud married Shirley Hoos in 1941 and worked at Mitchells Sporting Goods, then at a military tank manufacturing corporation in the Chicago area before joining the army to serve in WWII. His in-depth knowledge of tanks and prowess at keeping them operational earned him a fast promotion from Private rank to 1st Sergeant which certainly helped to support his wife and tiny little boy back home while serving in Japan.
Bud was an electrician and worked at NIPSCO for 38 years retiring in 1983. There was a time when many, many people knew him. He had a litany of jokes and his NIPSCO crews really enjoyed this particular foreman! Bud loved fishing and gardening. He could make a killer pot of bean soup, polish sausage, leg of lamb and unpredictable but delicious Sukiyaki which he learned about while in Japan.
Bud is survived by his son Larry (Mary) Pio, their daughters Kris (Rob) Fulton and Kelly (Sean) Reid and his daughter Susan (Richard) King and their daughter Julie (Mike) Mann. Bud is further survived by great grandchildren: Charlie and Tommie Fulton, Jared, Josh and Addison Reid as well as Michael and Robert Mann and several nieces and nephews. He was preceded in death by his parents, his wife Shirley, sister and brother-in-law Mary and Fritz Schammert, and Leo and Ken Schammert.
A funeral service for Bud will take place Saturday, February 11, 2017 at 7:00 p.m. at Rees Funeral Home, Hobart Chapel, 600 W. Old Ridge Road, Hobart, IN 46342 with Pastor Bob Burton officiating. There will be a burial of cremains in the spring at Crown Hill Cemetery. Visitation will take place from 4:00 - 7:00 p.m. Saturday, February 11, 2017 at Rees Funeral Home, Hobart Chapel. For more information, please call 219-942-2109. Online consolences may be shared with the family at www.reesfuneralhomes.com.