Hobart High School Alumni Association, Inc.
The Official Website of the HHS Alumni Association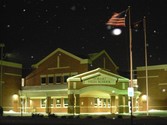 In Memory
Henry "Hank" Buczek - Class Of 1947

OBITUARY FROM THE NW INDIANA TIMES WEBSITE, JUNE 17, 2017:
HENRY "HANK" BUCZEK DYER, IN
Hank was born in Hobart IN and attended Hobart High School. After graduation he enlisted in the US Army and served in the Korean War. Hank married Bessie Georgeadis in September 1951. They raised four boys: Sonny (Colorado), Peter (deceased), Joseph (California), and Gregory (New Mexico). Hank spent his 50-year career working in the steel industry, most recently serving as Plant Manager at Mid-West Co until his retirement in 1998. Hank loved traveling with his family, vacationing in Las Vegas, playing cards with his buddies, Chicago sports, Polish food and spending time with his many grandkids and great-grandkids. His love of life and adventure will be missed by his large family and many friends. Visitation will be Sunday June 18, 2017 at Fagen Miller Funeral Home, 8580 Wicker Ave in St John from 2:00-5:00 p.m. Funeral mass will be held at St. Joseph Church, 440 Joliet St in Dyer, on Monday June 19, 2017 at 10:30 a.m. with burial to follow at Chapel Lawn Cemetery. www.fagenmiller.com.
This information and picture were obtained from: http://www.legacy.com/obituaries/nwitimes/obituary.aspx?pid=185827645.