Hobart High School Alumni Association, Inc.
The Official Website of the HHS Alumni Association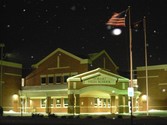 In Memory
Carol Kostbade (Pavot) - Class Of 1947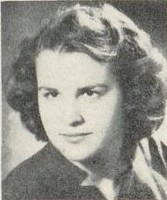 OBITUARY FROM REES FUNERAL HOME WEBSITE, MARCH 10, 2017:
Carol R. (nee Kostbade) Pavot, age 87, a lifelong Hobart resident, passed away Wednesday, March 8, 2017. She was born on August 13, 1929 in Hobart, Indiana to the late Ray and Doris Kostbade. Carol was a 1947 graduate of Hobart High School and a member of the first graduating class of Indiana University Northwest. She then continued her education and obtained a Master's degree of Education from IUN in 1970. Carol was employed as a First Grade Teacher at Foreman Elementary. She was a talented pianist and enjoyed painting. Carol also enjoyed traveling. Above all, she had a great love of her family and friends and cherished the time she spent with them.
Carol is survived by her sons, Harry (Ann) Kneifel, Jr. of Martinsville, IN, Kurt (Kim) Kneifel of Spring Green, WI, Jason (Carol) Kneifel of Hobart, IN; daughters, Alix (Greg) Davis of Grenada Hills, CA, Callie (Kevin) Mulrooney of Mineral Point, WI; 12 grandchildren, Joshua (Kate) Kneifel, Nathan Kneifel, Abraham (Lora) Kneifel, Isaiah Kneifel, Jay Kneifel, Kendra Kneifel, Tabitha Castaneda, Jessica (Daniel) Gainey, Edward Kneifel, Jon (Ashley) Kneifel, Jennifer (Matt) Cromer, Tom Sharp; 18 great grandchildren; many other beloved family members and friends.
She was preceded in death by her parents; and brother, J. Trent Kostbade. Memorial contributions in Carol's name may be made to the Alzheimer's Association, the American Lung Association or the American Diabetes Association.
A funeral service for Carol will take place Tuesday, March 14, 2017 at 10:00 am at Rees Funeral Home, Hobart Chapel, 600 West Old Ridge Road, Hobart with Pastor J.J. Hairston officiating. She will be laid to rest at Graceland Cemetery in Valparaiso. Visitation will be held Monday from 3:00 pm until 7:00 pm at the funeral home. For more information, please call (219) 942-2109. Online condolences may be shared with the family at www.reesfuneralhomes.com.
This information was obtained from: https://www.meaningfulfunerals.net/home/obituary/4160599. The picture was obtained from the 1947 HHS Memories Yearbook, made available by the Lake County Public Library, at: https://archive.org/stream/HOHS1947Images/.