Hobart High School Alumni Association, Inc.
The Official Website of the HHS Alumni Association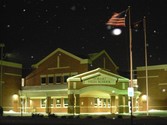 In Memory
Norman Johnson - Class Of 1941

OBITUARY FROM REES FUNERAL HOME WEBSITE, OCTOBER 31, 2016:
Norman H. Johnson, age 94, of Hobart, passed away on Sunday, October 30, 2016 at St. Mary's Medical Center in Hobart. Living in Hobart all his life, he was born on July 31, 1922 in the family home on Hwy 51. Norman was the oldest born to the late Albert L. and Alveda (Nee Carlson) Johnson, with brother Laverne and sister Dorothy. The family moved to Kelly Street when Norman was four, where he enjoyed living near 11 cousins. He later became an Eagle Scout from Troop 42 and was also recipient of the Pro Deo et Patria Award given by Augustana Lutheran Church. He graduated from Hobart High School in 1941 and married Bernice Trager, also from Hobart, in 1946. Norm was a lifelong member of Augustana, where he served on the property committee, Scout master of Troop 65, and a proud member of Teamsters Local 142. He enjoyed fishing with his family, carpentry, camping, and gardening. Norm was employed at US Steel, Ridge Lumber, and then retired from Grant Street Lumber.
He was preceded in death by his loving wife, of 69 years, Bernice Johnson. Living to cherish his memory are three sons, Evan (Judy) Johnson of Hebron, Kent (JoAnn) Johnson of Fowler, Larry (Kecia Jordan) Johnson of Portage; five grandchildren, Bryan (Kristy) Johnson, Brett Johnson, Sarah (Chris) Scott, Craig Johnson, and Adam (Jessica Barrett) Johnson; one great step grandson, Jeffrey Disser.
Friends may call on Tuesday, November 1, 2016 from 4-8 pm at Rees Funeral Home, 600 W. Old Ridge Road, Hobart, IN 46342. A funeral service will be held on Wednesday, November 2, 2016 at 10:00 am at Augustana Lutheran Church, 207 Kelly St., Hobart, IN 46342 with Rev. Charles R. Strietelmeier officiating. Internment will immediately follow at Graceland Cemetery, Valparaiso. Additional visitation will take place at the church prior to the service on Wednesday from 9:00 am until the time of the service. Memorial donations in Norman's honor may be made to Augustana Foundation, 207 Kelly St., Hobart, IN 46342. For more information, please call 219-942-2109. Online condolences may be shared with the family at www.reesfuneralhomes.com
This information and picture were obtained from: https://www.meaningfulfunerals.net/home/index.cfm/obituaries/view/fh_id/12324/id/3994256.