Hobart High School Alumni Association, Inc.
The Official Website of the HHS Alumni Association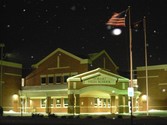 In Memory
Virginia Marvel (Sayles) - Class Of 1941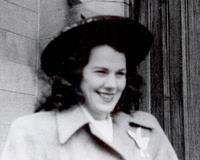 OBITUARY FROM THE STATE JOURNAL-REGISTER (SPRINGFIELD, IL), MARCH 30, 2019:
She was a raven-haired beauty who resembled Elizabeth Taylor in her youth. She was a force of nature who let no one block her way. She was an entrepreneur in many businesses over the years--Accounting by Sayles, Sayles Sequins, Epperson Books, Prairie Hypnotherapy, Italian Express.
She was a life-long learner who embraced each new skill she acquired with passion. She loved to take classes at Lincoln Land Community College--woodworking, landscape design, auto body repair, etc. She dropped out of Purdue University to start a family but returned to college later to earn a degree in Accounting and Auditing and a master's in Human Development Counseling.
She was a child of the depression who watched every penny. Her dearest project was Serenity Garden in the Laketown neighborhood that she built through persuasion, grit, and willpower. She planted and weeded and watered to create a corner of beauty for Laketown residents at Sherman and Grant Street.
She loved the written word. Her favorite poem by Emily Dickinson was "There is no frigate like a book to take us lands away...." She was proud that her genealogy traced back to the Huguenots (French protestants) who emigrated from France to escape religious persecution.
Virginia Elinor Marvel Sayles passed away peacefully at the age of 95 on March 9, 2019, at St John's Hospital in Springfield, Illinois, from aspiration pneumonia. She was going strong until the very end, still vibrant and resourceful, until a sudden fall. She was born in Union County, Kentucky on November 19, 1923, the daughter of Alta Emily Burton Marvel and Ephriam Roger Marvel. She married Lyman Perry "Chick" Sayles on March 8, 1947, at St Thomas Episcopal Church in Plymouth, Indiana. Lyman was a descendant of US Navy Commander Oliver Hazard Perry, the older brother of Commodore Matthew Calbreith Perry who opened Japan to American commerce.
She loved her little Chihuahua doggies, Jack and Jill, who are being adopted by her daughter.
Virginia was pre-deceased by her husband and her three siblings, Roger Austin Marvel, Emily Marvel Nelson, and Glenn Duane Marvel. She is survived by daughters Melanie and Melody; two grandchildren, Grant and Merritt, and many nieces and nephews.
A memorial service will be held in the chapel at Montvale Estates, 2601 Montvale Drive, Springfield, Illinois, on Tuesday, May 7, 2019, at 2:00 p.m. She made many friends and was happy there after being highly resistant to the move to independent living. The flowers will be in bloom then and she would have loved that.
Donations to the Laketown Neighborhood Association designated for the maintenance and enhancement of Serenity Garden in memory of Virginia are suggested in lieu of flowers.
This information and picture were obtained from: https://www.legacy.com/obituaries/sj-r/obituary.aspx?pid=192025948.