Hobart High School Alumni Association, Inc.
The Official Website of the HHS Alumni Association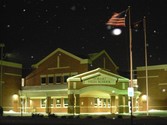 In Memory
Bernice Trager - Class Of 1941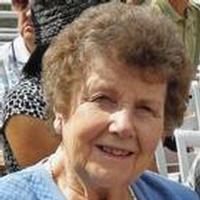 OBITUARY FROM REES FUNERAL HOME WEBSITE:
Bernice Elizabeth Johnson (Nee Trager) age 92 a lifetime Hobart resident passed away peacefully at her home on Sunday, November 22, 2015. Bernice was born on June 24, 1923 to George and Ella (Nee Dahl) Trager in Hobart, Indiana. On June 16, 1946 Bernice married Norman Johnson. She was a lifelong member of Augustana Evangelical Lutheran Church where she was very active in Sew Be It and the Altar Guild. Bernice enjoyed flowers, camping, and knitting.
Bernice is survived by her husband of 69 years, Norman Johnson of Hobart, IN; three sons; Evan (Judy) Johnson of Hebron, IN; Kent (JoAnn) Johnson of Fowler, IN; and Larry (Kecia Jordan) Johnson of Portage, IN; one brother Warren (Shirley) Trager of West Lafayette; five Grandchildren, Bryan, Brett, Sarah (Chris), Craig, and Adam. She was preceded in death by one brother, Norman Trager.
Memorial donations in Bernice's honor may be made to the Augustana Foundation, 207 Kelly St., Hobart, IN 46342.
Friends may call on Tuesday, November 24, 2015 from 4 p.m. to 8 p.m. at Rees Funeral Home, 600 West Old Ridge Road, Hobart. Funeral services are Wednesday, November 25, 2015 at 10 a.m. at Augustana Lutheran Church, 207 Kelly St., Hobart, IN with Rev. Charles R. Strietelmeier. Burial will follow at Graceland Cemetery in Valparaiso. Additional visitation will take place at the church just prior to the funeral service on Wednesday from 9 a.m. until the time of the service. For more information, please call 219-942-2109 or online at Reesfuneralhomes.com.
This information and picture were obtained from: https://www.meaningfulfunerals.net/?action=obituaries.obit_view&CFID=71b151d8-d987-4ecd-8177-4f66a466b4e3&CFTOKEN=0&o_id=3389653&fh_id=12324.