Hobart High School Alumni Association, Inc.
The Official Website of the HHS Alumni Association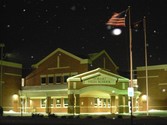 In Memory
Ritschel "Andy" Anderson - Class Of 1935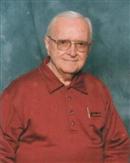 OBITUARY FROM AURORA (IL) BEACON NEWS, NOVEMBER 11, 2015:
Ritschel Paul "Andy" Anderson, age 98, died Sunday, November 8, 2015 at Prairie Crossing Living and Rehabilitation Center in Shabbona, IL. He was born March 29, 1917 in Washington, IL the son of the late Oliver Marion and Alda Isabelle nee Kent Anderson. Andy was a graduate of Hobart High School in Hobart, IN. He was employed by Caterpillar Tractor Co. where he had completed four years of a Manufacturing Training Course in Peoria, IL and many other special technical schools for Cat. His career of forty-five years with Cat took him through various management roles his favorite was Planning Engineer that took him all over the world. Places he had worked were Peoria, Aurora, Belgium, Mossville, Korea and finally Pontiac where he was the first retiree from the facility. After retirement he went on to Hardy, AR, Waldport, OR, Montgomery, Yorkville and Shabbona, IL. Andy and his wife taught ceramics up and down the east coast and were assistant park rangers in national forests in the western states. Other interest other than Caterpillar, were his love of reading and being a Ham Radio Operator. He was a member of Trinity United Methodist Church in Yorkville, IL.
Andy is survived by his son Tom (Sharon nee Leick) Anderson of Bristol, IL, grandchildren Gregory (Kristen Middleton) Anderson of Bristol, IL, Raymond (Michelle Seifrid) Anderson of Sandwich, IL. He was preceded in death by his first wife Zelda Anderson, second wife Jane Anderson and a sister Doris Bachi.
Private family graveside services will be held at the Lancaster Cemetery in Glasford, IL. Arrangements are entrusted to the DUNN FAMILY FUNERAL HOME with CREMTORY in Oswego, IL. For additional information 630/554-3888 or www.dunnfamilyfuneralhome.com.
This information and picture were obtained from: http://www.legacy.com/obituaries/aurora-beacon-news/obituary.aspx?pid=176434745.