Hobart High School Alumni Association, Inc.
The Official Website of the HHS Alumni Association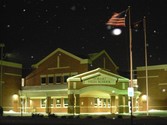 In Memory
Patty Shroyer (Staff)
OBITUARY FROM NW INDIANA TIMES, DECEMBER 22, 2015:
Patty L. Shroyer, age 80, of Portage, formerly of Hobart, passed away peacefully on December 19, 2015. Patty created loving and lasting relationships during her time working at Hobart Lanes Bowling Alley and Hobart High School. She had a huge heart and always unselfishly gave to others.
She was preceded in death by her husband, William Shroyer and many siblings. Patty is survived by her three daughters: Emma Shroyer, Cindy Fox, Tammy (Michael) Sigmundi; three sons: William Shroyer, Jr., Kevin (Jenna) Shroyer, Steven Shroyer; many loving grandchildren and great grand-children.
A Time of Remembrance will be held Tuesday, December 22, 2015 at Camelot Manor, 431 Camelot Estates, Portage, from 6:00 p.m. to 8:00 p.m. Burns Funeral Home, 701 East 7th Street, Hobart, entrusted with arrangements. www.burnsfuneral.com.