Hobart High School Alumni Association, Inc.
The Official Website of the HHS Alumni Association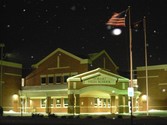 In Memory
Karlie Jean Murdock (Ramos) - Class Of 2001

OBITUARY FROM NW INDIANA TIMES, MAY 24, 2016:
Karlie Jean Ramos (Murdock), age 33 formerly of Hobart, IN; passed away Thursday, May 19, 2016 in Fort Wayne, IN. She was born to Dwight W. and the late Sharron Kaye Murdock on March 27, 1983. Elementary and Hobart High School with several classes in trade school before graduating in 2001. Family, friends, and Art were Karlie's passion. Her children Ray Ray and Lil' Sharron were her world. She grew up in a loving home with sisters Melissa, Stacy, Michelle, and Kari Sue along with her brother, Shannon. No matter what happened, Karlie always found the laughter in life. Her friends were like family and her large extended family of aunts, uncles, and cousins made every year a memorable one. Karlie had many talents, but her most notable one was her ability to create art. With this creative nature she was an even more loving mother to her two children, but also a loving aunt to her many nieces and nephews. Karlie made friends wherever she travelled. Most recently she lived in Fort Wayne, IN where she was loved by many, but most by her boyfriend of 1 year, Joey Whirret.
Karlie survived by her two beautiful children: Ray Raymond Ramos and Sharron Laura Ramos; Father: Dwight W. Murdock (Peggy Pearce); Sisters: Melissa (Jeff) Nichols, Stacy Murdock, Michelle (John) Clardy, and Kari Sue (Brandon) Siniard; many nephews and nieces. She also leaves behind numerous loving relatives and friends. She is preceded in death by her mother Sharron Kaye Murdock; siblings: Shannon D. and Kyle Warren Murdock; Grandparents and several extended relatives.
Friends may visit with the family Thursday, May 26, 2016 from 4:00 p.m. to 8:00 p.m. at Calumet Park Funeral Chapel located at 7535 Taft St, Merrillville, IN 46410. Friends may also visit from Friday morning from 9:30 a.m. until time of service. Funeral Services for Karlie will be held at Calumet Park Funeral Chapel Friday, May 27, 2016 at 11:00 a.m. with Rev. Daniel Hendon officiating. Memorial Contributions may be made to the family in care of Mr. Dwayne Murdock; for a trust set up for Karlie's children. www.calumetparkfuneralchapel.com
This information and picture were obtained from: http://www.legacy.com/obituaries/nwitimes/obituary.aspx?pid=180087055.