Hobart High School Alumni Association, Inc.
The Official Website of the HHS Alumni Association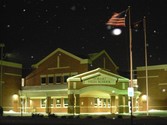 In Memory
Carol Schavey (Werner) - Class Of 1945
OBITUARY FROM MOELLER FUNERAL HOME (VALPARAISO) WEBSITE:
Carol Jean Werner, 91 of Valparaiso, passed away peacefully on Friday, November 9, 2018. She was born November 7, 1927 in Hobart to Henry and Ida (Hardt) Schavey and graduated from Hobart High School. Carol was a member of Immanuel Lutheran Church, Friendly Circle Homemakers, and Quilting Club, which sent their quilts to missionaries overseas. She also enjoyed Swedish weaving and spending time with her beloved grandkids. Carol and her husband were also members of Fishers of Men Lutheran Church in Port Isabel, Texas, where they were "Winter Texans" for almost 40 years. Carol will be remembered as a loving and kind woman, who was a peacemaker to her family. She will be dearly missed.
On December 8, 1951 Carol married Duane Werner, who survives, along with their children: Dennis (Lona) Werner of Valparaiso, Alan (Majella) Werner of Valparaiso, Cindy (Richard) Robertson of Georgia; grandchildren: Nathan (Lauren) Robertson, Hannah (Drake) Branda, Haley (Dane) Mishler, Shauna Robertson, Raegan (Chase) Olsheske, Bradley (Kati) Robertson; great grandchildren: Beckham and Paisley Branda, and Harvey Robertson; and brother, Dale (RuthAnn) Schavey. She was preceded in death by her parents, and sister, Lorene Olsen.
A funeral service will be held on Saturday, November 17, 2018 at 12 noon at Moeller Funeral Home, 104 Roosevelt Rd., Valparaiso, with visitation from 10:00 AM until the time of service. In lieu of flowers, memorial donations may be made to Dunes Hospice.
This information was obtained from: http://www.angelcrestinc.com/obituary_pages/obit_10.html. The piicture was obtained from the 1945 HHS Aurora yearbook, made available by the Lake Cou ty Public Library, at: https://archive.org/details/HOHS1945Images/.