Hobart High School Alumni Association, Inc.
The Official Website of the HHS Alumni Association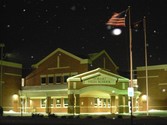 In Memory
Cecil "Bud" Hamilton - Class Of 1943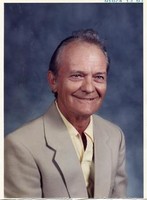 OBITUARY FROM THE NW TIMES WEBSITE, MAY 10, 2017:
Cecil "Bud" Hamilton, Jr., aged 92, of Hobart, passed away Saturday, May 6, 2017. He was born March 13, 1925 in Gary, IN to Cecil W. and Alice (nee Gibbs) Hamilton. He was a co-owner of Hamilton Kitchens for 20 years and retired from USS as a carpenter. After retirement he lived 25 years in Seminole, FL where he made many great friends and enjoyed his time. He is a Life Member of VFW 5365 Hobart, and The American Legion 252 of Seminole, FL. He was a past Hobart City Councilman, and a member of the Carpenters Local 1005. He was very proud of his service during WWII with the US Navy where he was a forward turret gunner on the USS Frederick Funston an attack transport that traveled from Saipan, Guam, Leyte, Luzon and ending at Iwo Jima.
Cecil is survived by five children: Cecil "Bill" of Nevada, Ronald (Vikki) of Kentucky, James Hamilton, Linda Tolliver and Susan Soria all of Hobart. Cecil is also survived by his brother, Arthur (Juanita) Hamilton of Hobart, 19 grandchildren and many loving great- grandchildren, nieces and nephews. Cecil was preceded in death by his daughter, Nancy L. Hamilton, Grandson, William Hamilton, three brothers; Robert, Charles and Herbert Hamilton.
In lieu of flowers memorial gifts are preferred to Arthur B. and Ethel V. Horton VNA Hospice Center of Valparaiso Visitation will be held, Thursday, May 11, 2017 from 2:00 p.m. to 8:00 p.m., with a 7:00 p.m. VFW Post 5365 service, at Rees Funeral Home, 600 W. Old Ridge Road Hobart, IN 46342. For information call (219) 942-2109 or online condolences may be submitted at: reesfuneralhomes.com.