Hobart High School Alumni Association, Inc.
The Official Website of the HHS Alumni Association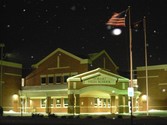 In Memory
James Henderson - Class Of 1943
OBITUARY FROM THE TREASURE COAST PALM (PALM CITY, FL), APRIL 11, 2017:
James Brooke Henderson (Jim) died peacefully on April 9, 2017. Born on February 26, 1926 in Washington, D.C. to Robert N. Henderson and Dorothy B. Henderson of Montgomery County, Maryland. He graduated from high school in Hobart, Indiana and he received B.S. and Ph.D. degrees from Purdue University. He held various positions in manufacturing, research and development, and marketing in Texas, New York, California, Louisiana, Georgia, and London, England for the Shell Companies. He was elected President of Shell Chemical Company in 1979 and retired in 1985 as Executive Vice President and Director of the Shell Oil Company.
Henderson was Chairman of the Board of the National Association of Manufacturers in 1984. He also served as Chairman of the Board of the American Industrial Health Council, Chairman of the Board of the National Legal Center for the Public Interest and as a director of various business, trade, charitable, and civic associations.
He served two terms as president of the Residents' Council at Sandhill Cove, a retirement community in Palm City, Florida.
Purdue awarded him the honorary degree of Doctor of Engineering and named a professorial chair in the Krannert School of Business after him. In 1986, the National Association of Manufacturers elected him Honorary Vice Chairman for Life.
He was preceded in death by his wife of sixty-eight years, Joan Niksch Henderson. He is survived by his daughter, Janet Lane and her husband David of Cypress, Texas, son Robert Brooke Henderson and his wife Sharon of Sugar Land, Texas, four grandchildren, and one great grandchild.
In lieu of flowers, memorial contributions may be made in Jim's name to: Treasure Coast Hospice Foundation, 1201 SE Indian St., Stuart, Florida 34997 or www.treasurehealth.org.