Hobart High School Alumni Association, Inc.
The Official Website of the HHS Alumni Association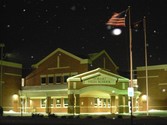 In Memory
Frank Davis - Class Of 1934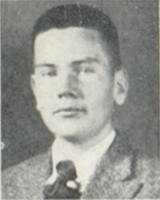 OBITUARY FROM NORTHWEST INDIANA TIMES, JULY 16, 2017:
Frank Mereness Davis, age 101, entered eternal peace on May 16, 2017, near his home in Cedar Mountain, NC. Born May 1, 1916 in Hobart, IN, he was the son of Frank Hampshire Davis and Lily Ann Mereness Davis. In addition to his parents, he was preceded in death by his loving wife, Mary Combs Davis; his only sister, Elizabeth Farmer Moe; and his older daughter Christine Davis Flinn. He is survived by his younger daughter, Alison Davis McFadden (Bruce), of Birmingham, AL; grandsons Daniel Lee Flinn, Jr., (Michelle) of Fletcher, NC; and Jason Franklin Wright (Jennifer) of Solon, IA; great-grandson Alexander Davis Flinn of Fletcher; great-granddaughter Emmeline Carolee Wright of Solon, IA; step granddaughters: Jennifer Barnwell (Ray), of York, SC; and Bonnie McFadden Ford of Birmingham, AL; three step-great grandsons; two step-great granddaughters; nephews Thomas T.E. Farmer (Patricia), of Redondo Beach, CA; and Robert B. Combs (Wilma), of Sarasota, FL; and a host of treasured cousins, including Joyce Davis Buziloski (Gerald), of Tallahassee, FL; and Donald Davis of Oak Ridge, TN.
Frank was a member of First United Methodist Church of Brevard. Frank attended Hobart High School, Hobart, IN, and upon graduation, he was awarded a music scholarship at Western Kentucky Teachers College in Bowling Green. He later transferred to the University of Michigan in Ann Arbor from which he graduated with a BA degree in Journalism. While there, he played percussion in the University Bands and was accepted into Kappa Kappa Psi honorary music fraternity. Upon graduation from college, Frank worked on the weekly newspaper in Hobart, IN, and as copywriter at Western Newspaper Union in Chicago. Married to his wife, Mary, in June of 1941, six months before the attack on Pearl Harbor, he enlisted in the U.S. Naval Reserve in March of 1942 with an enlisted rank of Yeoman 2nd Class, and was later promoted to Yeoman 1st Class. Initially, he was stationed at the Office of Naval Officer Procurement in Chicago as Yeoman to the Executive Officer. He was later recommended for a commission as Ensign, and subsequently served as Communications Officer aboard the destroyer DD560 USS Morrison and later at the headquarters of the 11th U.S. Naval District in San Diego, CA.
Upon discharge from naval service in 1945, Frank joined the real estate and construction firm of L. I. Combs & Sons in Gary, IN. While living and raising his family in Gary, he was a founding member of Ambridge United Methodist Church and served there in many capacities, ranging from Trustee to Chairman of the Board. An accomplished musician, he also served as organist and choir director, until his retirement with his wife and mother in 1970 to their home in Cedar Mountain, NC where he lived in contentment for 47 years. An avid touring motorcyclist, Frank traveled widely throughout Eastern USA from New York to Key West, the length of Mexico from the Rio Grande to Guatemala, and in each of the Alpine countries of Europe. He was a Life Member of BMWMOA and a charter member of the Tarheel Travelers of North Carolina in the Fayetteville area. Over the years, Frank enjoyed traveling the seven continents, via ship, airplane, automobile, and motorcycle, and generally loved whatever joys each day had to offer. He was a wise, fun-loving, gracious, unique individual, with a positive life force who lived each moment with appreciation and gusto. Frank was an energetic conversationalist and a great story teller; a true gentleman who always raised his cap to a lady; a charming, kind and authentic man who had friends of every age and walk of life. Many lives were enriched having known this sweet man.
A memorial service will be conducted at First United Methodist Church in Brevard, NC, on August 12, 2017. In lieu of flowers, memorial contributions may be made to a local animal rescue or shelter.