Hobart High School Alumni Association, Inc.
The Official Website of the HHS Alumni Association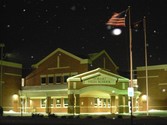 In Memory
Adam Holbrook - Class Of 2008
OBITUARY FROM NW INDIANA TIMES, MARCH 2, 2017:
Adam S. Holbrook, age 27, of Hobart, passed away suddenly February 27, 2017. He graduated from Hobart High School, Class of 2008, and was a union carpenter.
Adam was preceded in death by his grandparents, Randolph and Crystal Bailey. He is survived by his loving wife, Nina; parents-Chuck and Lori Holbrook; sister, Alexas Holbrook; brothers, Jason and Todd Holbrook; nephew, Max Love; niece, Bailey Love; many aunts, uncles and cousins.
A memorial service for Adam will be Saturday, March 4, 2017 at 4:00 p.m. at Burns Funeral Home, 701 East 7th Street, Hobart. Friends may visit with his family from 2:00 p.m. until the time of service. www.burnsfuneral.com.
This information was obtained from: http://www.legacy.com/obituaries/nwitimes/obituary.aspx?pid=184300128.