Hobart High School Alumni Association, Inc.
The Official Website of the HHS Alumni Association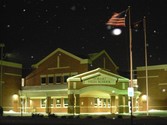 In Memory
Nancy Wean (Scarborough (Teacher))
OBITUARY FROM THE INDY STAR WEBSITE, MAY 3, 2018:
Nancy A. Scarborough, 82, resident of Fishers, passed away in Fishers on May 1, 2018.
She was born in Delaware County, March 4, 1936, the daughter of Willard Gilbert and Thelma Irene Helvie Wean. She was a graduate of Daleville High School, class of 1954 and received her BS in Education from Purdue University and her MA in Education from Ball State University. She taught for over 30 years in the Hobart School Corporation. She taught Home Economics and loved sewing, cooking and gardening.
She was preceded in death by her parents, her husband: Boyd Marion Scarborough and sister: Linda Clevenger. Survivors are her son: Dan Scarborough (Partner; Frank Renzino) of Fishers and Las Vegas, NV, 2 brothers: Max Wean (Barb) of Greenfield and Terry Wean (Lynn) of Anderson several nieces and nephews.
Friends may call on Thursday from 4-8 PM at Ballard and Sons Funeral Home, 8212 South Walnut Street, Daleville. Private service will be held at Miller Cemetery.