Hobart High School Alumni Association, Inc.
The Official Website of the HHS Alumni Association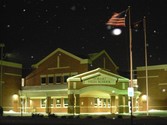 In Memory
Kenny Erwin - Class Of 1953
OBITUARY FROM NW INDIANA TIMES, AUGUST 27, 2018 :
Mr. Kenneth Galen Erwin, 83, passed away Friday, August 24, 2018, at Tucker Hospice House in Kannapolis, NC. A memorial service will be held at a later date in Indiana. Mr. Erwin was born June 29, 1935 in Clay County, IL. He was a son of the late Perry Erwin and Mamie Erwin. He was a veteran of the U.S. Navy and a member of the American Legion and Veterans of Foreign Wars.
In addition to his parents, he was preceded in death by three sisters and two brothers. Mr. Erwin is survived by his wife, JoAnne Dillard Erwin; two daughters: Kim (James) Bruns of Kannapolis, NC and Kristi (Buddy) Adams of Kannapolis, NC; son, Randy (Kathy) Erwin of Valparaiso, IN; six grandchildren: Brianna (Sean) Canel, Stephanie (William) Rippel, Ricky (Jordan) Wilson, Ashton (David) Yaksh, Steven (Kara) Erwin and Katelyn Heath; and five great grandchildren.
Lady's Funeral Home & Crematory is assisting the family of Mr. Erwin.