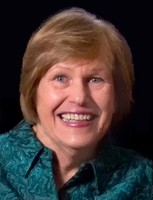 FROM THE JACKSON (MICHIGAN) CITIZEN PATRIOT, July 25, 2017:
Whiting, Margaret , (Peggy) Helen Joined the Lord early on Sunday, July 23, 2017. She was born on July 26, 1944 to Arthur and Helen Missal in Gary Indiana and graduated from Hobart High School in 1962 along with the Miss Hobart crown. She later obtained both a Bachelor and Masters of Science Degree in Education from Purdue University. In 1979, she ended her teaching career when she met Douglas Whiting and the two began their 38 year lifelong adventure together in Parma, Michigan. They raised three daughters, Katharyn (John) Schlueter, residing in Fremont, California, Elizabeth (Blademil) Taveras, residing in Portland, Connecticut, and Mary (Jeff) Oamek, residing in Denver, Colorado, and have two granddaughters, Claire (4) and Eliza (1) Schlueter. Peggy lived life to its fullest with a positive outlook and constant, bright smile. She loved golf outings with Doug, creating quilts for Quilts of Valor, Lutheran World Relief, family and friends, playing with her grandbabies and cooking. She also enjoyed watching birds at the feeders in the winter, gardening in the summer, and playing bridge anytime. Her family would like to extend their deepest gratitude to the Breast Oncology staff at the University of Michigan Hospital, the owners and staff of the Jaqueline House 2 in Jackson, Michigan, and the Great Lakes Hospice Nurses.
According to her wishes, cremation has taken place. A memorial service will be held at Trinity Lutheran Church on Thursday, July 27, 2017 at 1:00 pm, Pastor Eric Ekong officiating. In lieu of flowers, memorial contributions may be made to Trinity Lutheran Church Ladies Aid of Jackson 122 W. Wesley Street, Jackson, MI 49201 or American Cancer Society 1755 Abbey Road, East Lansing, MI 48823. The family will receive friends from 12:00 pm until the time of service at the church.
This information and picture were obtained from: http://obits.mlive.com/obituaries/jackson/obituary.aspx?pid=186177335.