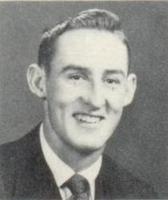 OBITUARY FROM BURNS FUNERAL HOME WEBSITE:
William J. Cope, age 88, of Lowell, formerly of Hobart, passed away on Saturday, February 18, 2023. Bill was a graduate of Hobart High School, Class of 1952. He attended Earlham College and received his degree in 1956. Bill followed up with a Master's in Education & Counseling from Indiana University and a Master's in Administration from Purdue.
Bill was an anchor of the community, as a longtime coach, teacher, and principal in the Hobart school system. He continued to develop region youth, acting in interim principal roles at Crown Point and Griffith until hanging it up at the age of 80. His good works found a home within the Hobart Kiwanis Club, where he was a past president and former Lt. Governor of the Duneland Division.
Bill was a distinguished member of the 3rd class inducted to Hobart High School's Athletic Hall of Fame in 2011. He was also honored for his athletic achievements at Earlham as an inductee of their Hall of Fame for football and baseball in 2003.
He was preceded in death by his best friend and wife of 58 years, Sally Cope (may they find each other again); mother, Fern Cope, his father, Leo Cope; brother, Carl Cope; sister, Betty (Richard) Bartholomew; and son, Jason Cope. Bill is survived by his 2 daughters, Kim Ciesielski of Crown Point and Tami Kepshire of Lowell; 4 grandchildren, Danielle (David) Clark, Andy (Jenn) Kepshire, Alyssa (Jason) Manthey, and Mike Ciesielski; 6 great-grandchildren, Mikayla, Madison, Madilynn, Mackenzie, Hayden, and Conor; sister Cleo (Porter) Douglas; brother-in-law, Steve (Jackie) Brewer, and several nieces and nephews.
Friends are invited to meet with Bill's family on Thursday, February 23, 2023, from 2:00 p.m. to 7:00 p.m. at Burns Funeral Home, 701 E. 7th Street, Hobart, IN. A private service will precede the visitation. Hobart Kiwanis will conduct a memorial service at 6:00 p.m. The family welcomes contributions made to the Juvenile Diabetes Research Foundation or any Suicide prevention organization. www.burnsfuneral.com
This information was obtained from: https://www.burnsfuneral.com/obituaries/William-Cope-5/#!/Obituary. The picture was obtained from the 1952 HHS Memories yearbook, made available by the Lake County Public Library, at: https://archive.org/details/HOHS1952Images/.