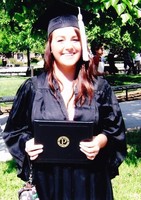 OBITUARY FROM THE KUIPER FUNERAL HOME (HIGHLAND) WEBSITE:
Teri Marie Calhoun, age 26, of Griffith, passed away October 2, 2011.
She is survived by her parents: Tim and Lisa Calhoun; one brother Daniel Calhoun, maternal grandmother, Darlene Kominski; paternal grandmother, Suzanne Calhoun; aunt, Geri (Jim) Jaracz; uncle, Richard Kominski; aunt, Marian Calhoun (Maxim Naftchi); uncle, Bill (Kim) Calhoun; aunt Melissa Peters; uncle, Joe (Lisa) Calhoun; uncle, Greg (Laura) Calhoun; many cousins; boyfriend, Rick Rayner; special friends: Wendy Kelley, Christen Nash, Shannon Scheidel, Emily Gierman, Candis Carey, and Danielle Maciszak; goddaughter, Skye Kelley. Preceded in death by her grandfathers: Charles Calhoun and Richard Kominski.
A memorial service will be held Wednesday, October 5, 2011 at 8:00 PM at Kuiper Funeral Home, 9039 Kleinman Road (two blocks south of Ridge Rd.) Highland, IN with Rev. Robert Parnell officiating. Friends may visit with the family on Wednesday from 2:00-8:00 PM (time of services ) at the funeral home. Teri was an English teacher at Hobart High School for one year, then at Griffith Middle School for two years. She was a Pantherette dance coach for three years. In lieu of flowers memorial donations to the Humane Society of the Calumet Area.
This information and picture were obtained from: http://obits.dignitymemorial.com/dignity-memorial/obituary.aspx?n=Teri-Calhoun&lc=1587&pid=153957834&mid=4835982.