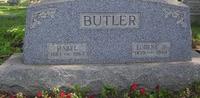 OBITUARY INFORMATION FROM FIND-A-GRAVE WEBSITE:
Mabel Butler
BIRTH 1883
DEATH 1963 (aged 79–80)
BURIAL
Hobart Cemetery
Hobart, Lake County, Indiana, USA
MEMORIAL ID 73651046
BUTLER, MABEL—Age 80, Of 1026 Cleveland Ave., Hobart, passed away at Methodist Hospital, Thursday morning,Dec. 5, 1943. A lifelong resident of Hobart.A former member of th« Eastern Star Lodge of Hobort. Survivors: 2 daughters, Mrs. Virginia Tratgwr and Mrs. Isabel Varoo. both of Hobart; 3 grandchildren.
Funeral services will be held Sunday, 2 p.m. at Pflughoeft
Funeral Home, Hobart, Rev. James Cheney officiating. Burial In Hobart Cemetery. Friends may call after 2 p.m. today.
This information and picture were obtained from: https://www.findagrave.com/memorial/73651046/mabel-butler.