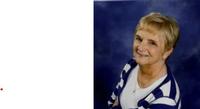 OBITUARY FROM BURNS FUNERAL HOME WEBSITE:
Maryann Kerr (nee Brush), age 83 of Hobart, passed away January 8, 2023, surrounded by her family after battling Parkinson's Disease for several years.
She was a 1957 Hobart graduate who met and married her high school sweetheart, Tom Kerr. After studying nursing, she became a Registered Nurse at Saint Mary Medical Center in Gary. In 1973 when the new Hobart hospital started, she opened and led the Intensive Coronary Care Unit, as well as later in her career the Oncology unit. Her dedication to the patients and nurses she worked with continued for over 40 years.
Maryann spent many years supporting her husband's love of football. She attended hundreds of Hobart football games, cheering on the Brickies. She also shared Saturday football at the University of Michigan, inviting many friends and family to cheer on the Blue.
After retiring, she enjoyed spending her winters in Florida with her husband and going to Disney World whenever possible with her grandchildren. She was a wonderful mother and grandmother, a dedicated wife and an amazing caregiver.
She was preceded in death by her parents and four brothers. She is survived by her husband, Tom, her three daughters, Cyndi (Dan) Marconi, Sherry (Jim) Zieba, Amy (Erik) Burkhart and nine grandchildren – Cameron (Kalia) Spencer, Kaleigh Spencer, Jacob Zieba, Megan (Kevin) Meyer, Alex Zieba, Jon Zieba, Dawson Burkhart, Amanda (Ben) Sievert, Jake Marconi.
Visitation will be Thursday, January 12, 2023, from 2-8 pm at Burns Funeral Home, 701 E. 7th St., Hobart, Indiana. A Mass of Christian Burial will take place on Friday, Jan 13th at 10:00 am at St Bridget Catholic Church, 107 Main St., Hobart, Indiana, Fr. Dominic Bertino officiating.
In lieu of flowers donations may be made to Hobart Food Pantry, 200 South Hobart Road, Hobart, IN. www.burnsfuneral.com.
This information and picture were obtained from: https://www.burnsfuneral.com/obituaries/Maryann-Kerr/#!/Obituary.