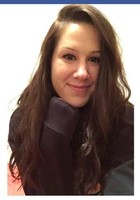 OBITUARY FROM THE NW INDIANA TIMES, NOVEMBER 27, 2016:
Jennifer Syjut, age 23, of Hobart, passed away Wednesday, November 23, 2016. Survived by parents, Deborah and Ronald Syjut; sister, Kristi (fiance' David Godfrey) Syjut; maternal grandmother, Edythe (Rich) Santucci; paternal grandparents, Walter and Wanda Syjut; aunts and uncles: Dennis Betler, Linda (Dave) Johnson, Ken (Anne) Syjut, Cheryl (Jim) Barbauld. Preceded in death by grandfather, Daniel Betler.
Jennifer was a member of St. Bridget Catholic Church, Hobart. She was a graduate of St. Bridget School, Hobart High School, Class of 2012, and was a nursing student at Purdue Northwest, Westville Campus. Jennifer was a cashier at Michael's craft store, Hobart.
Family and friends may call at Pruzin Brothers Funeral Service, 6360 Broadway, Merrillville on Tuesday, November 29, 2016 from 2:00 to 7:00 p.m. Funeral will follow promptly at 7:00 p.m. from Pruzin Brothers Chapel with Rev. Dominic Bertino officiating. Cremation to follow services. To express online condolences and view online obituary please visit pruzinfuneralservice.com.