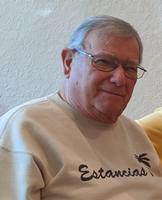 OBITUARY FROM FARLEY FUNERAL HOME (VENICE, FL) WEBSITE:
Samuel Gerald "Jerry" Hicks
Born on March 2, 1936 in Gary, Indiana
Passed away on August 23, 2021 in Venice, Florida
It is with heavy hearts we announce the passing of our beloved patriarch Jerry Hicks on August 23, 2021, after a brief illness. He is survived by the love of his life, his wife of over 60 years, Patti. Jerry and Patti met at Gary Edison in 1952. They married on November 24, 1960. He will be missed tremendously by his children Jeff (Loretta Dobbins), Sam (Colleen O'Brien–Teasley) and Dawn (Michael Braune); grandchildren Lindsey (Jared) Kohn, Erin Hicks, Sydney (Tony) Curatolo and Sam Hicks; great–grandchildren Henry, Hadley, Mia and baby Tony. He also leaves behind his sister Bonnie Fraser, brother–in–laws Rich (Karen) and Paul "Butch" Drake, a niece and several nephews. He is preceded in death by his parents Sam and Mary Hicks, older brother Bob and in–laws George and Marian Drake.
Jerry was a three sport letterman graduating from Gary Edison in 1955. He went on to play football at Franklin College while securing an undergraduate degree. After college, Jerry began a 35–year career of teaching and coaching, beginning at his high school alma mater of Gary Edison and moving on to School City of Hobart. He received a Master of Science from Indiana University in 1966. He was equally honored and humbled to be recognized for his many achievements in athletic participation, coaching and public service, which he enjoyed so much and what he felt was important: Gary Old Timers Association award (1990), Key to the City of Hobart for Services Rendered (1999), Hobart Hall of Fame (2008) and Indiana Football Hall of Fame (2009).
Jerry and Patti started spending time in Venice, Florida, in 1996 with the dream of transitioning from "snowbirds" to full–time residents. They made the move to paradise in the fall of 2018. In lieu of flowers, please make a donation to a charity or organization of your choice in Jerry's name.
Now I realize why you taught me to be strong
Whatever I thought about your advice turned out to be wrong
It was for this fateful day when you wouldn't be there
That I'd be able to, for myself, fend and take care
This information and picture were obtained from: http://www.farleyfuneralhome.com/obituary/samuel-hicks/.