Hobart High School Alumni Association, Inc.
BrickieFest Homecoming Picnic September 28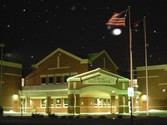 In Memory
Dewey Dean Bland - Class Of 1956
OBITUARY FROM NW INDIANA TIMES, MAY 9, 2012:
Dewey Dean Bland, age 74, a longtime resident of Hobart, passed away on Monday, May 7, 2012. He was born on January 5, 1938 in Gary, IN, the son of Opha and Elizabeth Bland. Dewey was a 1956 graduate of Hobart High School. He then proudly served in the U.S. Navy. Dewey was married to Barbara Hines on June 20, 1964 at Saint Michael's Church in Gary. Dewey worked as a police officer for 13 years for the Hobart Police Department. He then worked in grounds maintenance for the School City of Hobart. Dewey was a member of Saint Bridget's Catholic Church, a member of the Saint Vincent DePaul Society, and the Hobart Y.M.C.A. He also enjoyed reading about military history and Egyptology.
Dewey is survived by his loving family: wife, Barbara Bland of Hobart; sisters: Sharon (James) Johnston, Sr. of Hobart, and Marlene Homann of Baytown, TX; nephews: James (Heather) Johnston, Jr. of Hobart, Robert (Kristine) Johnston of Granger, Ronald Hall of Wesson, MS, and Larry (Melanie) Hall of Wesson, MS; great nephews and nieces; Riley, Cody, Lindsay, Alyssa, and Kyle; his wonderful cats: Tom and Huck; and other loving family and dear friends. Dewey was preceded in death by his parents.
A visitation for Dewey Bland will be held from 4:00 p.m. to 8:00 p.m. on Thursday, May 10, 2012 at Rees Funeral Home - Hobart Chapel, 600 West Old Ridge Road, Hobart. Morning prayers will be offered at 9:30 a.m. on Friday, May 11, 2012 at the funeral home. A Mass of Christian Burial will be held at 10:00 a.m. on Friday at Saint Bridget's Catholic Church, 568 East 2nd Street, Hobart with Father Dominic Bertino, officiating. Burial will be at Graceland Cemetery in Valparaiso. For further information please call Rees Funeral Home at (219) 942-2109 or online at www.reesfuneralhomes.com.
This information was obtained from: http://www.legacy.com/obituaries/nwitimes/obituary.aspx?pid=157513880.