Hobart High School Alumni Association, Inc.
The Official Website of the HHS Alumni Association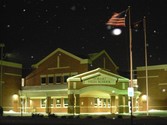 In Memory
Lloyd Ahlbrand (Teacher)
Lloyd taught physical education/health in Hobart beginning with the 1966-67 school year through 1977-78 and then he taught health from 1988-89 through 1993-94. He was the athletic director for the school years 1978-79 through 1987-88.
OBITUARY FROM THE POST-TRIBUNE, MARCH 23, 2011:
Ahlbrand, Lloyd P. Age 76, of Naperville, IL, and former longtime Hobart resident, passed away Saturday, March 19, 2011. He was born on May 31, 1934 in Danville, Illinois. Lloyd was a graduate of Valparaiso University where he also earned his Master's Degree. Lloyd served his country in the United States Army. Lloyd taught health and physical education at Hobart High School for over 35 years and served as their athletic director. He was a longtime coach of basketball, cross country, and track, and was a member and referee with the IHSAA Calumet Officials Association. He was a charter member of Grace Evangelical Lutheran Church and a member of Hobart Rotary Club. He was a die-hard Green Bay Packers and Saint Louis Cardinals fan.
Lloyd is survived by 4 children: Debbie (George) Quill, Louisville, KY, Lee Anne Galovic, Aurora, IL, Jeff (Traci) Ahlbrand, Ballwin, MO and Scott (Casey) Ahlbrand, North Richland Hills, TX, 9 grandchildren, 2 brothers Wendell (Diana) Ahlbrand, Valparaiso, Bill (Barbara) Ahlbrand, Columbia, IL, sister, Carol (Al) Galovich, Pewaukee, WI, and other loving family. He was preceded in death by his parents, his loving wife Peggy L. Ahlbrand, and his sisters Donna Miller and Lois Ahlbrand.
Visitation for Lloyd Ahlbrand will be held from 4:00 to 8:00 pm on Friday, March 25, 2011 at Rees Funeral Home, 600 W. Old Ridge Road, Hobart. Funeral services will be held at 10:00 am on Saturday, March 26, 2011 at Grace Evangelical Lutheran Church, 6240 Grand Boulevard Route 51, Hobart, with Reverend Fred Lams officiating. Burial at Evergreen Memorial Park Cemetery in Hobart. In lieu of flowers donations to either Grace Evangelical Lutheran Church or the Alzheimer's Association would be appreciated. For further information please contact Rees Funeral Home at 219-942-2109 or online at www.ReesFuneralHomes.com.
This information was obtained from: http://legacy.post-trib.com/obituaries/posttribune/obituary.aspx?n=lloyd-ahlbrand&pid=149567267&fhid=4971.