Hobart High School Alumni Association, Inc.
The Official Website of the HHS Alumni Association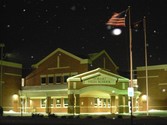 In Memory
Richard Packham - Class Of 1941
OBITUARY FROM NW INDIANA TIMES, JULY 4, 2007:
Richard C. Packham, a lifelong Hobart resident, passed away on Wednesday, July 4, 2007. He was born in Hobart on June 23, 1922 to William and Lilla (Jones) Packham.
He married Leona Brickner, who survives on March 24, 1946. Other survivors include son Martin Packham and daughter Linda (Mario Alvarez) Sopko; grandchildren Laura, Lisa (Dan Smith) and Michael (Amanda Thompson) Sopko, William (Ursula) Packham, Anna Packham, Steven (Kim) Sopko and Michelle (Kevin) Markert; great-grandchildren Kaitlyn and Tyler Markert and Benjamin and Jason Sopko; sisters-in-law Jeanette (Jerry) Uptgraft and Joan Brickner; numerous nieces, nephews , cousins and special friends.
He was a graduate of Hobart High School, class of 1941, attended Gary College and graduated from Indiana State in 1950. Richard taught from 1950 to 1955 at Hobart High School, from 1955-1974 he was a teacher and the Vocational Director at Portage High School. Richard started the building trades program in this area. Richard served on the Board of Directors at Ivy Tech, Gary. He received many outstanding teaching awards. He was a longtime member of the First United Methodist Church. He was a veteran of WWII U.S. Navy, where he served as a night fighter pilot off the USS Boxer. He received his flight training at 61st and Broadway, Merrillville. Richard was noted for being an avid model airplane builder and flyer. He also worked part time for Midwest Products. He loved to travel throughout the US and took his family on many long trips. He also enjoyed fishing, hunting, modeling-trains, boats, and airplanes and working on clocks. He was an avid Ham and CB operator. He was Past President of the Portage Lions Club, member of the American Legion Post #54, and Past President of Wheeler Methodist Church Men's Club. He was devoted to his loving wife of 61 years, his children and grandchildren. He attended all the grandchildren's sporting and academic events.
Funeral services will be held on Monday, July 9, 2007 at 11:00 a.m. at the First United Methodist Church of Hobart, 654 E. 4th St., Hobart, Jill Lowry-Sills officiating. Services will terminate at the church with cremation following at the Burns Funeral Home Crematory. Friends are invited to meet with the family at Burns Funeral Home, 701 E. 7th St., Hobart on Sunday from 2-8 p.m. Contributions may be made to the Hobart Methodist Church or the charity of your choice.
This information was obtained from: http://www.legacy.com/obituaries/nwitimes/obituary.aspx?n=Richard-Packham&pid=90233094.