Hobart High School Alumni Association, Inc.
BrickieFest Homecoming Picnic September 28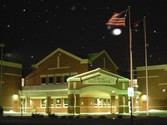 In Memory
Henrietta Johnson (Larson) - Class Of 1933
OBITUARY FROM KOKOMO (INDIANA) TRIBUNE, APRIL 19, 2012:
Henrietta L. Larson, 97, Tipton, died at 4:20 p.m. Tuesday, April 17, 2012, at Indiana University Health Tipton Hospital. Henrietta was born Dec. 21, 1914, in Fond Du Lac, Wis., to the late Frank Y. and Elsa O. (Zille) Johnson. A 1933 graduate of Hobart High School, she met Paul H. Larson in Hobart and the two were joined in marriage on May 1, 1937. Henrietta and Paul Larson came to Windfall in 1947 with their four children. He preceded her in death on March 30, 1974.
Henrietta and her husband farmed until their retirement in the mid-60s. She was a founding member of the Tipton County Pork Festival, a dedicated member of Emanuel Lutheran Church and a women's leader with Farm Bureau, Inc. She enjoyed crafts, reading and was very talented with crochet work.
Survivors include two children, H. Luther (Glenna) Larson, Windfall, and Elsa (Steve) Smith, Tipton; 13 grandchildren; several great-grandchildren; and several great-great grandchildren.
Henrietta was preceded in death by her husband; two children, P. Frank Larson and Sandra L. Lawson; two sisters, Lucille Gutzmer and Sarah L. Jeffries; and two great-grandchildren.
Services are 11 a.m. Monday at Emanuel Lutheran Church, 1385 S. Main St., Tipton, with Pastor Robb Roloff officiating. Burial will follow in Fairview Cemetery, Tipton, next to her husband. Visitation is 4 to 8 p.m. Sunday at the church. Owen-Weilert-Duncan Funeral Home, Larrison-Martin Chapel, Converse was entrusted with the arrangements. Online condolences may be expressed at www.owenweilertduncan.com.
Memorial contributions can be made to the church or to Lutheran Indian Ministries, 3525 N. 124th St. Suite 1, Brookfield, WI 53005-2498.
This information was obtained from: http://kokomotribune.com/obituaries/x2086601669/Henrietta-L-Larson.