Our Scholarship Winners for 2022
The recipients of the 2022 Hobart High School Alumni Association are seniors Meghan Horn and Alex Pickett. Meghan will be studying Political Science at Indiana University, and Alex will be studying Sports Management at Trine University. Both wrote an essay "What It Means to Be a Brickie" as part of their scholarship applications. On Wednesday, May 11, the HHSAA board treated Meghan and Alex and their families to dinner at the Paragon Restaurant.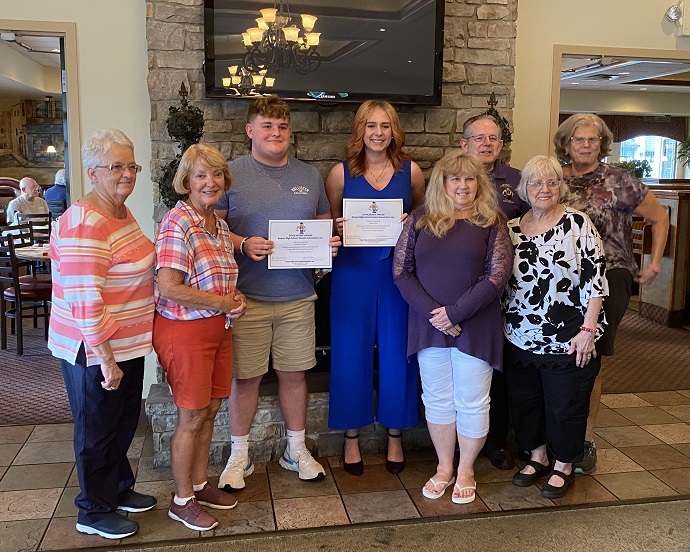 Scholarship winners with the HHSAA board. Left to right: Lynn Kostbade,
Debbie Vega, Alex Pickett, Meghan Horn, Tracy McCullough, Paul Addison,
Beth Barney, and Debra Opolski.
---
Cody Johnston Featured in NWI Times
Cody Johnston (Class of 2023), son of Jim Johnston, Jr. (1980) and grandson of Jim "JJ" Johnston (1954) is featured in an article in the Northwest Indiana Times. Here is the link to the article: https://www.nwitimes.com/sports/high-school/track-and-field/hobart-pole-vaulter-cody-johnston-is-rewriting-the-family-record-books/article_615eda6f-ebfb-5dff-8880-a40e21f7944b.html.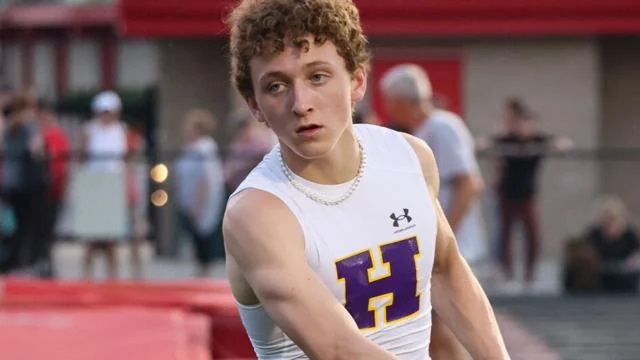 (Photo credit: John J. Watkins, The Times)
---
Popes are Winners at Carmel Marathon
Five members of the Pope family were in Indiana on Saturday, April 9, to run in (or watch) the Carmel Marathon. Ellen Pope '69 and Bud Pope '74 both took first place in their age categories, quote a feat, considering that they ran in snow, hail, and wind. Siblings MaryAnne (Pope) Bryan '63, Sharon Pope '65, and Nancy Pope '72 cheered them on. Here are some photos: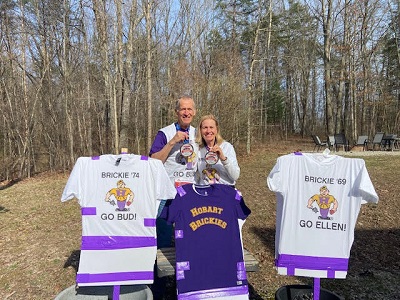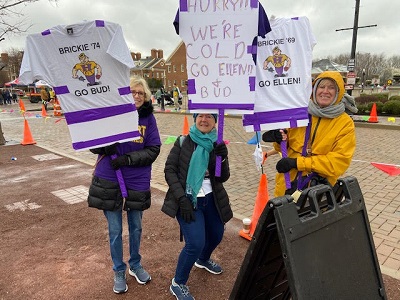 Above: (L) Carmel Marathon winners Bud and Ellen Pope. (R) Nancy Gauder, Sharon and Nancy Pope cheer them on.
Below: MaryAnne (Pope) Bryan, Ellen, Sharon, Nancy, and Bud Pope.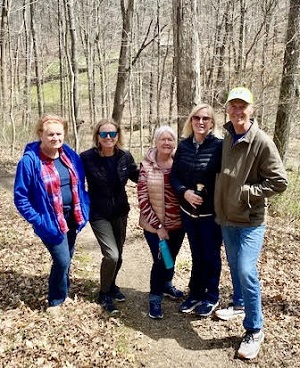 ---
1984 Alumnus Richard Jones
Featured in Portage Life
The Portage Life website has done a feature article on Richard Jones, who spent his career in the heating and cooling industry, and is now the Portage Building Commissioner. Read the article here in Portage Life. The picture was obtained from the Portage Life website.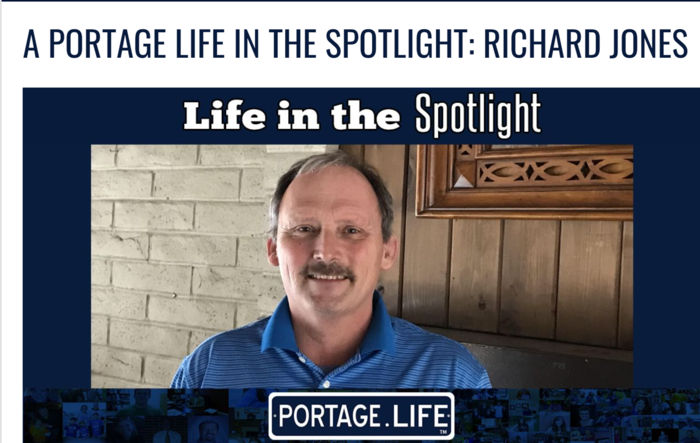 ---
Hobart Loses Two Beloved Coaches:
Paul Throne and Steve Balash
We have recently learned of the passing of two of Hobart's most beloved coaches, Paul Throne and Steve Balash.
Here is a link to Paul Throne's memorial page. It contains service information and a link to the original obituary on the Sun City Center Funeral Home website. Cards may be sent to Paul's wife, Ruth Throne, at: 2329 Nottingham Greens Drive; Sun City Center, FL 33573.
Here is a link to Steve Balash's memorial page. It also contains service infomation and a link to Steve's obituary on the Rees Funeral Home website. And here is a link to an article about Steve Balash in the Northwest Indiana Times.
Photo credits: Paul Throne (Sun City Center Funeral Home), Steve Balash (Facebook page "Once a Brickie, Always a Brickie")
---
Football Coach and Legend Bob Mattix Passes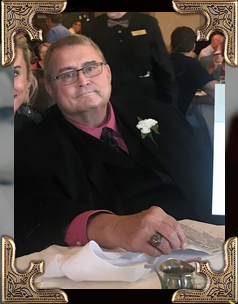 Longtime football coach Bob Mattix, Class of 1967, passed away on Saturday, January 15. There will be a memorial visitation at Rees Funeral Home on Thursday, February 10, from 3:00 to 8:00 pm at Rees Funeral Home. Click here to view our memorial page to Bob. This picture is from the obituary that appeared on the Rees Funeral Home website.
Click here to read an article about Bob Mattix that appeared in Tuesday's Northwest Indiana Times.
Our sympathies to Bob's wife Josephine and the family.
---
The Rain Held Off for BrickieFest 2021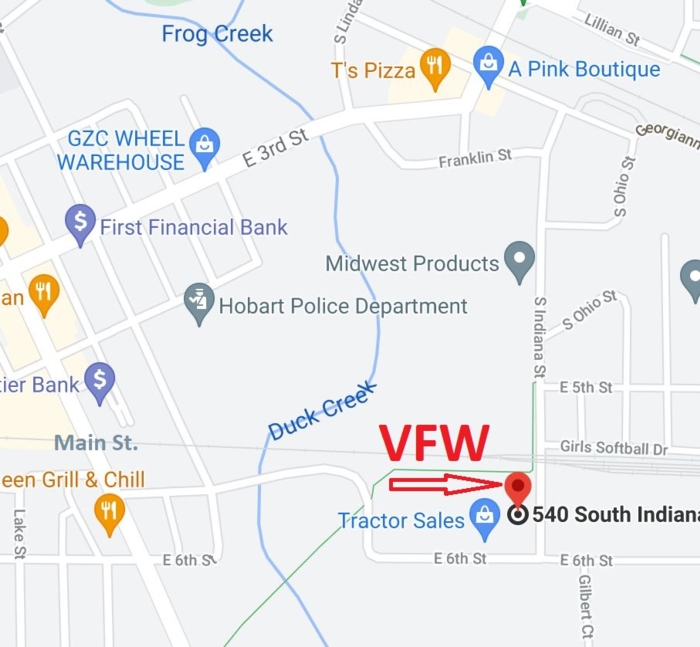 It rained in the morning, and it rained in the late afternoon, but it did not rain on the BrickieFest Picnic on Saturday, October 2, from 12 noon to 3 pm. Thanks to the 35 people who attended, and thanks to the VFW for allowing us to use their place for the event.
The Hobart High School Alumni Association raised nearly $200 in memberships, merchandise sales, and donations. We had hot dogs, brats, chips, cookies, and bottled water, and sang Happy Birthday to HHSAA board member Debbie Vega and Paul Addison's brother-in-law Terry Hills.
The Brickies won their Friday night football game, too!
There are pictures in our January newsletter.
---
Our New, Improved Website Is Live!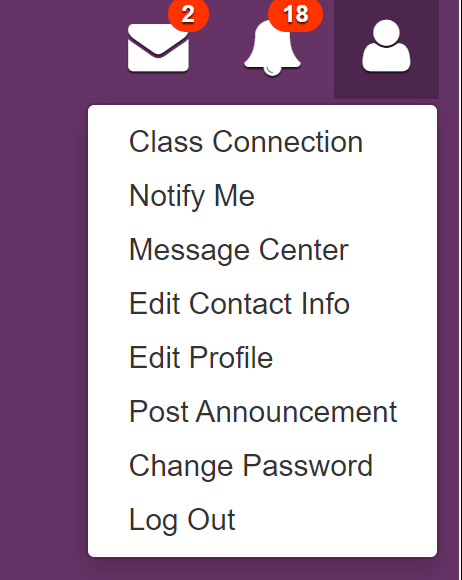 The new website design is now in place. For desktop users, you'll see three small differences: 1) you can click the Sign In button to the right, or the User icon at the top right to log in (it looks a little like a person), 2) the first links are across the top, with the rest on the left, and 3) to see the Member Functions like Edit Contact Info, Change Password, and Log Out, you'll click on the User icon.
Smartphone and tablet users will notice a remarkable improvement in the look of the website. Until now, the entire page was squeezed into one screen. Now it is much easier to read. Smartphone and tablet users should click on the User icon to log in, and the Menu icon (three horizontal bars) for all functions.
Click on "Website Redesign" at the left or click here to see a description and sample screen shots of the new look.
We hope you like the new design. Try it on your smartphone or tablet. Email us at info@hobartalumni.org if you have any comments or problems.
---
Order Your Brickie Window Clings!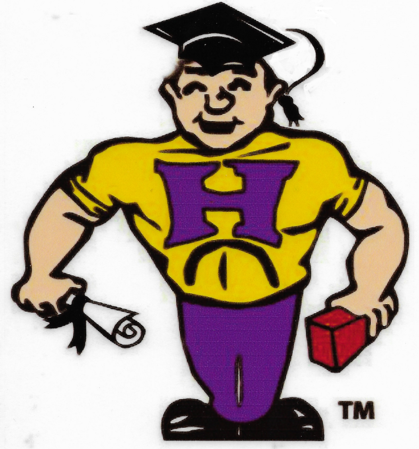 Looking for a gift for your newly-graduated Brickie?
You can get Hobart High School window clings for $3 each, or two for $5, by sending your check, made payable to the HHS Alumni Association, to Lynn Kostbade, 410 N. Joliet Street, Hobart, IN 46342.
Another great idea is a lifetime membership to the HHS Alumni Association, for $100. Send your check, made payable to the HHS Alumni Association, to HHSAA, PO Box 68, Hobart, IN 46342. Please include the name, addresss, email address and graduating class of your lucky lifetime Brickie!
---
Classmate Obituary Information Welcome
We do our best to keep up with listing obituaries for HHS alumni. We are able to find most obituaries that have the words "Hobart High School" in them, but many do not. If you come across any online obituary notice that is not posted in the "Recent Obituaries" page on this website by the time of the funeral, please send the link to me at info@hobartalumni.org, along with the classmate's year of graduation, if you know it, and I will post it right away.
Thanks to Gorjean Quick, who just sent me several obituaries from the Class of 1963.
---
Do You Have Class Reunion News to Share?
If your class is having a reunion later this year, or in 2020it's not too early to start letting people know about it. Please email us at info@hobartalumni.org, or email me (Paul Addison) personally at paulhaddison@gmail.com. Let us know the class year, the date, time and place of your reunion (however much you know at this time), and the name of the person to contact for more information. Thanks!
Click "Class Reunions" at the left to see all upcoming class reunion information, including future years.
---
Listen to What Was Playing When
YOU Were in High School
Do you remember the songs that were on the radio when you were in high school? Click on the "What Was Playing" link at the left, and you'll find YouTube links to five songs for every year going back to 1900! You may have heard them on the radio, at your class dances or prom, on the jukebox at Abbott's or Pete's, in your own room at home, or on YouTube or MTV!
Thanks to Jennifer Eastwood Davis, Class of 1962, for compiling this extraordinary list! Because they are links to YouTube, Vimeo and the like, they often go out of date. We are doing our best to keep the list up to date with working links. If you find a link that doesn't work, please email us at info@hobartalumni.org, tell us what year and what song link isn't working, and we will try to fix it right away.
Music can bring back lots of memories. What was playing when you were in high school?
---
Yearbooks Available Online from the
Lake County Public Library
The Lake County Public Library has been digitizing Hobart High School yearbooks. Most of them from 1908 to the present are online. Click "HHS Yearbooks Online" at the left to access the collection. You don't need to register or log in, and you can save the yearbooks as PDF files.
The HHS yearbook was called Aurora until 1946, when its name was changed to Memories.
---
Yes, We Have a Facebook Page!
If you use Facebook, please visit our Facebook page. Just login to Facebook, and search for Hobart High School Alumni Association, or paste this into your browser address bar: https://www.facebook.com/hohighalumni/
Facebook is frankly much better suited for classmates talking to each other than this website is. There is a Message Center on this website, but it requires notifying the other person by email, and they have to come back and login here to get the message. Facebook is just quicker.
Plus, you'll get news about special events on the Facebook page, as well as here.
---
Follow Us On Twitter!
If you have a Twitter account, we invite you to follow us @hobartalumni. We will not bombard you with announcements, but we will keep you up to date on upcoming class reunions and other events.
---
Once Again: Don't Confuse Us
with www.AlumniClass.com!
Several people have joined the website at www.alumniclass.com, and some have even paid $10 for it! That website is for selling merchandise (not that there's anything wrong with that), but that is not the Hobart High School Alumni Association site. This one is!
Our site costs nothing to register. In fact, you can see everything except classmate profile information (email addresses and regular addresses) without signing in at all.
You won't get news of HHS alumni activities on the other site. They have no affiliation with Hobart High School or the HHS Alumni Association. Be sure to stay tuned at www.hobartalumni.org!
---
Welcome to the HHSAA Website!
The HHS Alumni Association raises funds for scholarships! We awarded one scholarship at our first HHSAA annual meeting in April 2012, and have awarded two or more at every annual meeting since. Donations for scholarships are tax-deductible and can be mailed to: HHS Alumni Association, PO Box 68, Hobart, IN 46342-0068. Write "Scholarship Fund" in the memo line. Thanks!
Do You Share An Email Address? If you share an email address with another HHS alum, you can use the same email address as your login, as long as you have a separate password! Remember, your Primary Email Address is your username to login.
Do You Have a Profile on the AlumniClass.com Website? That's Not Our Site!
Many of you have a profile on a website called AlumniClass.com (www.alumniclass.com). If you look at the bottom of their page, you will see this disclaimer: "This Site is independent of and has no association with any school, school district, or web site."
Linking from the HHS site: Recently, the Hobart High School website (www.hobart.k12.in.us) changed its Alumni link from the AlumniClass.com website to this one. If you created a profile on that website, it is still there, but please be reminded that AlumniClass.com is not the real Hobart High School Alumni Association. Our apologies for any confusion.
Are You Getting Annoying Emails?
If you are receiving email notifications from this site about people who have registered or changed their name, you may be subscribed to their profiles without meaning to. Just click on Notify Me at the left, then under Profile Subscriptions, check Unsubscribe From All Profiles In All Years. That should take care of it.